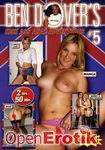 Ben Dover here, with another load of sexy sluts all getting seriously shafted in every juiced-up hole. Nichola Holt is a celebrity after starring in the U.K. reality show "Big Brother". She does here what she couldn't do on national TV: gets her asshole drilled out for your viewing pleasure! Maddy and Bev Cocks became sisters-in-law when Maddy married Bev's brother. That doesn't stop the pair from filling each other's sizzling twats with enormous dildoes. Shaz works in a sex shop and always dreamt about appearing in a porno movie, so I made her dream cum true by getting my boys to double-dick her and spunk allover her grinning face. Then there's Aussie tart Bianca with a lovely fat arse, and leggy porn-wannabe Lorna Lace, who just loves a stiff DP. Let me know what you think!
Porno DVD Ben Dover's Kick Ass Anal Adventures 5 (Kick Ass Pictures - Ben Dover's Kick Ass Anal Adventures) für nur €22,90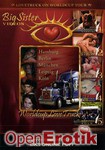 Sie sind jung, sie sind schön, sie sind sexy – die freizügigen Mädchen auf Tour quer durch Deutschland geniessen die Fussball WM 2006 auf andere Art. Ihr Lovetruck ist eine rollende Mädchen WG: 30 Meter lang, Bad mit Whirlpool, Wohnzimmer, Schlaf - und Schmusezimmer und eine grosse Showbühne für heisse Tanz und Stripshows. Sie suchen die besten Lovers aus der ganzen Welt. Eliska träumt vom Schärferstündchen mit einem Brasilianer, Sally will mit ein paar US-Boys im Whirlpool Fussball anschauen, Dominika und Denisa spielen in Gedanken mit heissen Gruppensex ... Ihr Motto: Jungs, wärmt die Bälle!!!
Porno DVD Big Sisters Video - Worldcup love truck (Big Sisters) für nur €14,90